Meet the Managers
Karen
Practice Manager
Karen joined the staff in October of 2002. She has been in the Veterinary field for over 30 years.

She is happily married with a grown daughter.

In her spare time she enjoys scrapbooking, shopping, and traveling.

At home she has 3 cats named Vinnie, Opie, and Karlo.

Pictured with one of our patients, Miss Scarlet

Email: karen@lakeemmavet.com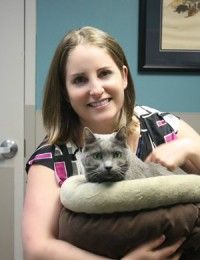 Jen
Office Manager
A native to Florida, Jen joined our staff in June of 2000. She has been in the Veterinary field as a Veterinary Technician, Customer Service Specialist, and Office Manager since 1998.

She is currently enrolled at the University of Central Florida majoring in Biology, with a minor in business. In addition, she is pursuing a certification in Veterinary Practice Management.

In her spare time, she enjoys spending time with friends and family, reading books, watching movies, spending time outdoors, zip-lining, and supporting her favorite basketball team, the Orlando Magic!

At home, she has a Domestic Shorthaired cat named Smokey.

Pictured with her cat, Smokey.

Email: jen@lakeemmavet.com
Mallory
Medical Team Manager
Mallory joined our staff in May of 2007. She has been in the Veterinary field since 1999.

Mallory has a beautiful daughter at home. In her spare time she enjoys spending time with her family and friends.


Shannon
Animal Care Manager
Shannon was born and raised in Wheaton, Illinois and moved to Florida in 1973. She attended Seminole State for Business and Marketing Management, as well as the Michael Ellis School for Dog Trainers. Before joining us here at Lake Emma Animal Hospital, Shannon was a client of Dr. Dee's for over 20 years. Shannon has been married to her husband, Troy, for 32 years, and they share a 20-year-old daughter, Skyler. Currently, Shannon has 5 dogs and 4 cats. Shannon volunteers for Easterseals, the Muscular Dystrophy Association, her church, and Canine Companions for Independence. Her hobbies include photography (our employee pictures are courtesy of Shannon!), spending time with family and friends, attending concerts and dog shows, visiting the beach, and dog training.
Follow us on
Promotions
See what current promotions we have available for your pet!
Click Here