Meet The Managers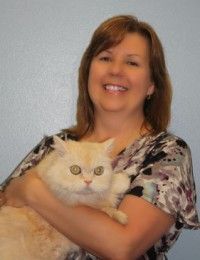 Karen
Practice Manager
Karen joined the staff in October of 2002. She has been in the Veterinary field for over 30 years.
She is happily married with a grown daughter.
In her spare time she enjoys scrapbooking, shopping, and traveling.
At home she has 3 cats named Vinnie, Opie, and Karlo.
Pictured with one of our patients, Miss Scarlet
Email:
karen@lakeemmavet.com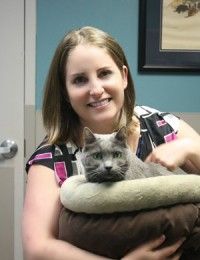 Jen
Office Manager
A native to Florida, Jen joined our staff in June of 2000. She has been in the Veterinary field as a Veterinary Technician, Customer Service Specialist, and Office Manager since 1998.
She is currently enrolled at the University of Central Florida majoring in Biology, with a minor in business. In addition, she is pursuing a certification in Veterinary Practice Management.
In her spare time, she enjoys spending time with friends and family, reading books, watching movies, spending time outdoors, zip-lining, and supporting her favorite basketball team, the Orlando Magic!
At home, she has a Domestic Shorthaired cat named Smokey.
Pictured with her cat, Smokey.
Email:
jen@lakeemmavet.com